Cal State San Bernardino Lead Summit XI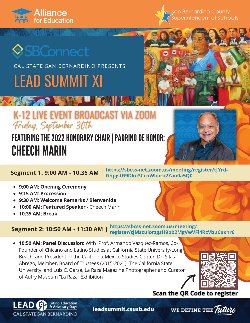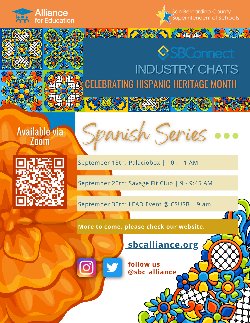 What

Cal State San Bernardino Lead Summit XI

When

9/30/2022, 9:00 AM

–

11:00 AM

Where

Zoom
Segment #1: https://bit.ly/3d3iJu8

"The segment features the opening ceremony for the 2022 CSUSB LEAD XI Summit. Included in this segment is the color guard presentation by West Covina HS, Mexican National Anthem, onstage performance "Honoring the Movement of Elders" and speech by actor/comedian Cheech Marin.

Segment #2: https://bit.ly/3rbpu0w

"This segment features a panel discussion titled, "
"Movimiento y Compromiso: History, Goals and the 50 Years of Challenges and Accomplishments. Panelists Dr. Abrego, Luis Garza, and Prof. Vasquez-Ramos will lead the discussion.
Copy to Google Calendar
•
Download iCal Event